By Kyle Michelson
I've got a confession. It's urgent – I can't hold it in any longer. It's time I admitted it. To my family, to my friends, and to myself.
I'm addicted.
I'm addicted to RuPaul's Drag Race. And…I don't want this addiction to end.
Phew! Now that I've got that off my chest, let's dig in. Here are my rankings of the remaining eleven queens, for all they're worth. In the words of RuPaul herself, "Gentlemen, start your engines! And may the best woman win."
11. Vivienne Pinay
Vivienne is fierce, but she's been too meek for Drag Race thus far. While she's clearly a talented queen, her personality is just too small – and I don't see it growing in the frame of the competition. If she comes alive, it will be a welcome surprise, but as of now she's sinking fast.
10. Ivy Winters
Another beautiful queen who's just been too quiet, Ivy Winters seems to be lost in the fold. Her looks have been consistently on point, but her performance just hasn't demanded attention yet. If she doesn't step it up soon, I see her sashaying away in the very near future.
9. Jade Jolie
In her own words, Jade Jolie is serving fish on a platter. But that seems to be all she's serving, because beyond her looks, Jade hasn't done much to stand out thus far. She loves to stir the drama though – and we know how much Ru loves her drama – so Jade might be sticking around for a while.
8.Lineysha Sparx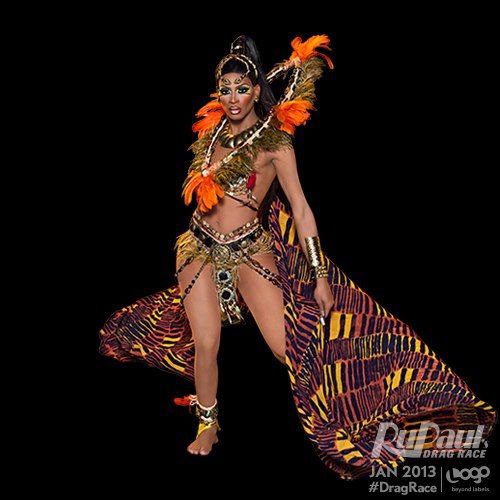 Lineysha Sparx is, without question, the most gorgeous queen of the competition – in and out of drag. Her look is fierce, and her movements flawless. But her focus seems to be waning, and she might be leaving earlier than most expect. This queen needs to step into her potential.
7. Alyssa Edwards
Miss Alyssa might be the most decorated queen of them all, but her pageant experience won't bring her everything she needs to win this crown. She's got to push herself to climb her way to the top of RuPaul's Drag Race.
6. Coco Montrese
Just edging out Alyssa is her arch nemesis: Coco Montrese. Coco may have stumbled this week, but her fierce lip synch assures that she won't go down that easy. She's the most seasoned queen of the bunch, and if she focuses and relies on her experience, we'll be seeing Coco at the top week after week.
5. Jinkx Monsoon
A little humor goes a long way. A lotta humor, and you might have a star on your hands. Jinkx Monsoon keeps us laughing, and her sweet personality gives her an A in charisma. She's got vision and purpose, to boot. Watch out for this queen – she might be the sleeper of Season 5.
4. Alaska
I. LOVE. ALASKA. This queen's original, couture style is a welcome change among this field of pageant girls. She continually pushes the envelope, and her looks show the art in drag. I even support her decision to do the challenge in boy drag. She pulled off her character, and showed her versatility – no harm no fowl in my book. I'm having a fantastic time watching Alaska step out of Sharon's shadow, and into the spotlight.
3. Roxxxy Andrews
Roxxxy Andrews has been, thus far, flawless. She makes the competition look effortless – which is, after all, one of the greatest talents a performer can have. Her class and kindness also shine, and with the way the judges talk about her, it seems like we'll be seeing a lot of Roxxxy in the coming weeks.
2. Detox
Detox is already a judge's favorite, and a formidable contender. Her experience shows, as she consistently turns it out from week to week, and carries herself with the confidence of a veteran. As long as she keeps her composure, she could ride this momentum all the way to the crown. And I don't see her slowing down anytime soon.
1. Honey Mahogany
Honey Mahogany is, by far, the most underrated queen in the competition. This San Francisco queen has the talent and class to turn it out week after week – and has already shown her ability to work under difficult conditions (See: A limp Coco Montrese playing her "ventriloquist doll"). Honey is smart and elegant – once she's recognized for her consistent performance, she's going to take off. Keep an eye on this one.